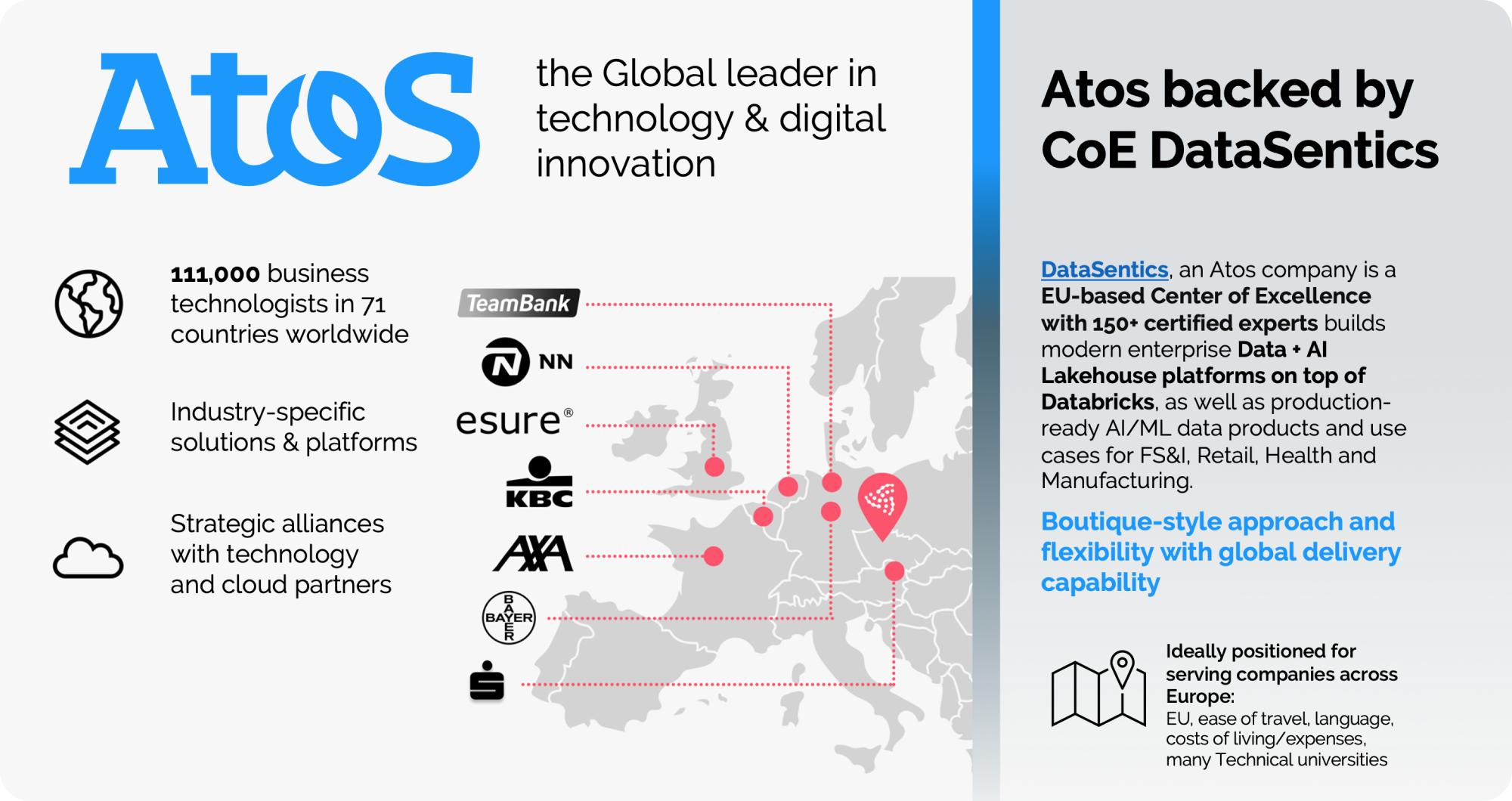 We are specialized in implementing future-fit Data & AI centric
Lakehouse
Atos & DataSentics at glance
Certified team of 150+ professionals with hands-on Databricks expertise (part of Atos' Big Data team of 8000 people)
We have all the necessary roles to handle projects end-to-end. From business leaders and cloud architects to Data scientists and ML engineers. Delivering locally in EU with possible team extension from CoE in Prague.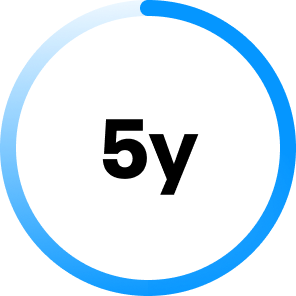 Longstanding Databricks partnership spanning already 5 years
We were the first Databricks partner in Europe and we are appointed as Databricks' official Professional Services Team
Deployed Databricks data Lakehouses for 30+ clients
Deep industry experience from successful projects at some of the largest CEE banks. All the way from PoC to production and business value

Atos' Databricks implementation teams in France and Germany supported by DataSentics, EU-based Center of Excellence

Our data products (odap)
Contact center data product
Analyze customer communication using advanced nlp methods and our pre-built workflows.
- Retention campaigns​ - detect unhappiness, complaints
- Upsell - finding up-sell opportunities in service calls
- Feedback routing, customer journeys optimization
Digital Behavior Data Product
Utilize online (web, app, …) behavior data to improve the accuracy of your prediction models.
- Retention campaigns​ - the risk of mortgage repayment​
- Upsell - digital propensity to buy​
- Digital sales fraud detection​
Data Product Framework
Enable your analysts to build reusable production-ready use-cases and data products in no-time.
- Simple onboarding - only basic SQL/PySpark skills needed
- Build reusable ELT or ML-powered features
- Export your results to further systems with ease
AI Lakehouse architecture best-practices
Use our validated methodology to build a secure datalake for your AI use-cases much faster.
- Multi-cloud
- Real-time & Batch
- Supports Data & AI products (data mesh)
- Bronze/Silver/Gold datalake model
- Productionalization processes (DevOps, MLOps, DataOps)
Delivering excellence with Atos' DataSentics and Databricks
Client stories
Our leadership team

- 11+ years experience in FS&I industry in digital transformation, digital marketing and AI projects

- Key expertise: Personalization, Customer 360, CRM/Digital marketing, Advertising, AI/ML solutions

- 10+ years in delivering use cases around Customer 360 and Marketing/Data technologies across many FS&I customers in Europe (Erste Group, esure, NN, World-class UK football club etc.)


- 14 years of experience in data analytics and mathematical modelling
- Designing which business process to use the data and AI intensive solutions in and how
- Manager for 9 years in Deloitte – led data/modelling projects for the financial sector in Central Europe, UK, and France
- 10+ years of experience with BI/DWH/ETL development and architecture

- Specialized in optimization of DWH and BI processes in the enterprise environment using agile methodologies, continuous integration techniques and efficiencies of the cloud with data lakehouse and data mesh approach

- Azure/AWS architecture, MS SQL, Oracle,Spark etc.
Our Databricks Champions

- 18 years of SW development experience in various languages and technologies

- 4 years of experience in PySpark and Databricks
- Experience with AWS and Microsoft Azure clouds, SW development best practices, cloud data platforms architecture, batch & streaming

- Experienced team leader (multiple SW + data engineering teams)


- Recognized as Solution Architect Champion by Databricks
- 6+ years of SW development experience in various languages and technologies

- 2+ years working with Spark and Databricks

- Worked in Databricks Professional Services as a member of our team

- 5years+ in the lead cloud engineer role for large FS&I cloud adoption projects for Moneta and KBC (incl. CSOB)

- 8+ years of experience in data analytics and machine learning

- MLops & data mesh expert

- Spark architect (certified Spark developer) – building advanced analytics/ML data pipelines in production – AWS + GCP + Azure


- 10+ years working with data and analytics

- 3+ years working with Spark and Databricks

- Currently officially working in our team for Databricks Professional Services

- Worked on 10+ customer projects with Databricks Professional services as an Architect, designing Delta Lakes, data pipelines and cloud architecture

- Certified Spark 3.0 developer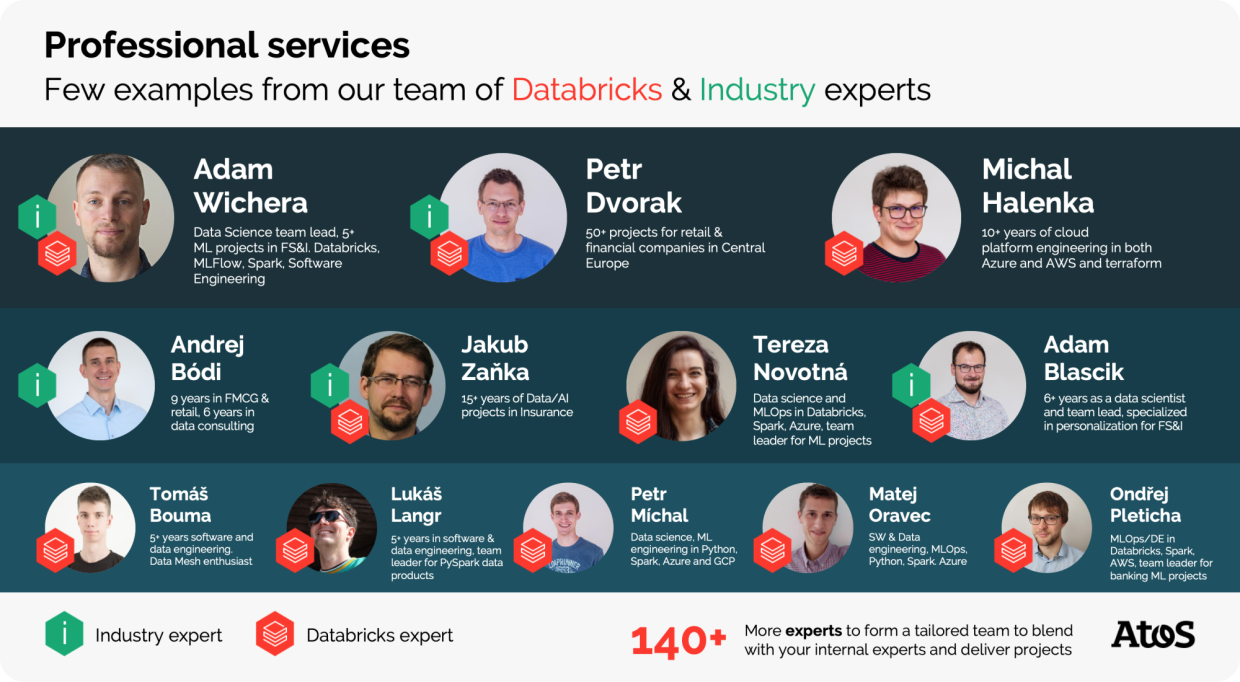 Ask us anything
Key contacts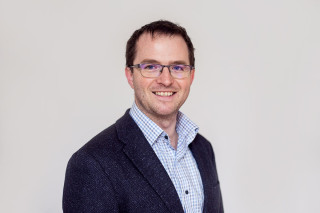 Jan Procházka
DataSentics CTO | Data + AI Platform Lead
David Vopelka
FinTech lead | AI & personalisation expert